Conger Solar Systems Selected to Design Solar Canopies for Project Nexus, the first Solar Canal Deployment in the U.S.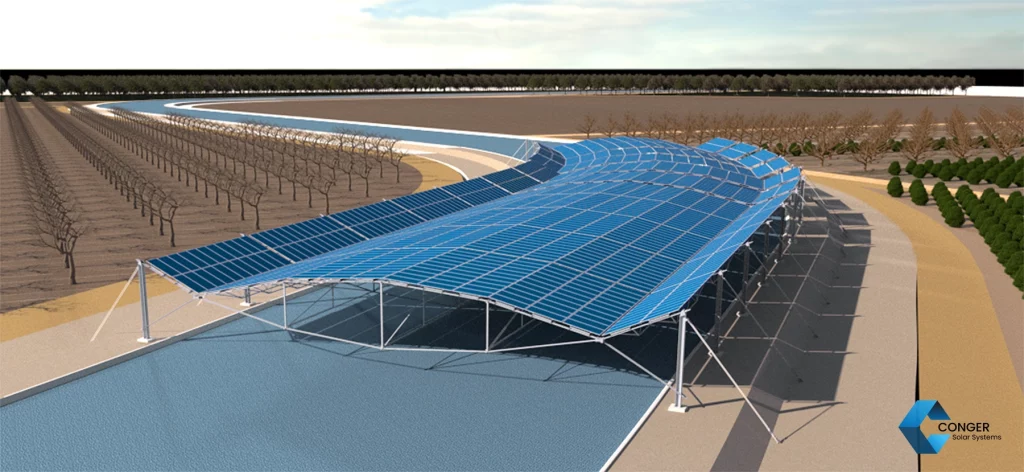 For Immediate Release:
Carbondale, Colorado & Sandpoint, ID
March 30, 2023
Conger Solar Systems announced it is designing and engineering the solar panel canopies that will be used to cover various sections of Turlock Irrigation District's (TID) canals for Project Nexus, the first in the nation solar over canals pilot project.
Conger's innovative structures were commissioned by Project Nexus managers Solar AquaGrid and the Turlock Irrigation District based on the firm's previously successful solar over canal deployments in India. Conger's next generation designs are well suited for covering narrow and wide span canals and the unique challenges posed by building over existing utility corridors while saving open land for other purposes in the process.
"After teaching an environmental design course with Buckminster Fuller at John Denver's Windstar Foundation, I realized that the inherent efficiency of cable structures, combined with solar energy was an embodiment of Bucky's core principles of sustainability, renewable energy, and doing more with less." said Steven Conger CTO/Chairman, Conger Solar Systems. "By using our patented cable structures to cover canals with solar, we are laying a blueprint for how these efficient cable structures could be used as a system to create multiple benefits beyond solar energy production."
Once design concepts were sufficiently advanced and patented, Conger Solar Systems designed and built its first tensioned cable solar structure over a parking lot in 2011 in Los Angeles, CA. Several projects followed, mainly in India, paving the way to the Punjab, India solar over canal project Conger Solar Systems designed in 2017.
"In an age of drought, and water, energy, and climate insecurity, it's time to reimagine our existing utility corridors. Covering open canals with solar canopies offers a combined, integrated response to addressing our water/energy/climate nexus," said Jordan Harris, Solar AquaGrid CEO. "Our goal is to study in order to scale and Steven Conger's designs are an ideal solution to put to the test in our first pilot project here in California."
Project Nexus originated after Solar AquaGrid commissioned a UC Merced study published in the journal Nature Sustainability in 2021. The study revealed a variety of benefits and compounding advantages. It showed that covering large swaths of California's approximately 4,000 miles of public water delivery infrastructure with solar panels can result in significant water, energy, and cost savings for the state. The study illustrates a savings of some 63 billion gallons of water annually – enough to irrigate 50,000 acres of farmland or meet the residentials water needs of more than 2 million people. According to the study, the solar canopies would generate 13 gigawatts of power, equal to about one sixth of the state's current installed capacity. As such, Project Nexus is a way to test these conceptual projections at a much smaller scale.
Reflecting on Conger's past and looking forward to the future, Conger Solar Systems CEO Doug Wille said: "Steven has been perfecting the designs of our solar support structures for the past couple of decades, including new concepts with recently filed patent applications that will be incorporated in Project Nexus. We are thrilled to have been selected by the Project Nexus team to design the solar structures for this exciting project and believe it is the perfect demonstration venture to showcase our technology."
About Conger Solar Systems
Conger Solar Systems is a product-focused company offering the solar market new, cost-effective and attractive panel suspension solutions. Conger Solar Systems' current product line includes tensile solar products for systems over: agriculture, aquaculture, canals, parking, EV passenger/bus/truck charging facilities and tough, sloped terrain ground-mount applications. Conger structures offer numerous competitive advantages over traditional rigid structures, including significantly less structural steel required to span wide distances as well as less labor required to build the support structures. For more information about Conger Solar Systems, please see www.conger.solar or via email at Anderson@conger.solar.
About Project Nexus
Project Nexus is the nation's first test deployment of solar panels over open canals. It will culminate with installation of solar panel canopies over sections of Turlock Irrigation District's irrigation canals in California's Central Valley and serve as a proof of concept to pilot and further study solar-over-canal design, deployment, and benefits on behalf of the state of California. The project represents a public-private-academic partnership between California's Department of Water Resources, Turlock Irrigation District, project development firm Solar AquaGrid, and the University of California, Merced. The $20 million Project is being funded by the state of California as administered by the California Department of Water & Resources. It is expected to break ground in 2023 and be completed in 2024. For more information visit: https://www.tid.org/about-tid/current-projects/project-nexus/
###